Neapolitan Pizza Done Right: Noto Pizza
Pizza is the best.
It's probably my favorite food, really. There have been very few occasions in my life where I've said, "no thanks, I won't be eating that slice of pizza." (I actually can't think of a single one, but I'm sure it's happened). I'll willingly admit that I've eaten the worst of the worst—Cici's Pizza—and found at least a little joy in it. I know a lot of you have a favorite type of pizza, whether that be a New York slice, Neapolitan, St. Louis-style, and so on. I do not. I like to change things up, keep it fresh—except for Chicago-style deep dish: that is not pizza, it's a stupid, worthless casserole.
As with pretty much everything in life, simple is often best, and almost always the hardest to achieve. I believe that's why we see so few places attempting to do a Neapolitan-style pizza. There's not a lot of room to hide your shortcomings. If you suck, it's obvious.
I was obsessed with Randolfi's wood fired pizzas. That fermented dough. The perfect toppings. All of it was just magical. Then it was gone from this world. Taylor Hamilton, the pizza wunderkind, moved on to Union Loafers (which, obviously, I also am madly in love with). The Randolfi's oven remains in that empty restaurant space, just begging for someone who gives a shit to come in and make pizza greatness.
Sorry. I started getting pizza nostalgia.
While Randolfi's may be dead, Noto Pizza is very much alive, just like Tupac.
Calling Noto a food truck is unfair. It's a mobile restaurant. As you can see from the photo below, it's a trailer with a full-size wood fired pizza oven attached to it. I told them they should start a next-level pizza delivery service where you order it and they literally come to your house and make it, but they told me it was "outrageously stupid" and to "please get off our truck right now before we call the police."
Instead, they're just going to open a brick and mortar restaurant. Hooray! More details on that can be found in this Feast Magazine article.
Now, for the pizza nerds.
For the dough, Noto uses Italian 00 flour, high hydration (about 72%), and a 36 hour ferment. The crust is exactly what I want in a Neapolitan-style pie: it's light and flavorful with a nice chew to it. It puffs up in the oven and gets the highly sought after leopard spotting and slightly crisp exterior, but it never loses the moist interior. The sauce is simply crushed tomatoes that have been imported from Italy. All of the ingredients, minus the fresh mozz, are Vera Pizza Napoletana approved.
There's no question in my mind that this is one of the best pizza shops in St. Louis. They are so good. I want to throw a party where this truck rolls up to Balkan Treat Box and we all just have a great time eating wood-fired foods.
The truck typically goes out with its six classic pies, then does about four specials—many of which are never repeated again. They're rocking that scarcity model. I loved the specials (particularly the Capo, which you'll see below), but my favorites are in the classics category: Classico, Sophia, and American Honey. The Classico is, as you might have guessed, the classic marg—fresh mozz, tomato sauce, basil, EVOO. The Sophia is topped with fig jam, gorgonzola, caramelized onions, prosciutto, arugula and a balsamic glaze. American Honey is a standard pepperoni, finished the the extra fiery Calabrese chili flakes and a drizzle of Mike's Hot Honey.
The truck is typically at the Tuesday Tower Grove Market and often at Six Mile Bridge Brewery. Find it. Eat this pizza. Report back.
FRESH MOZZARELLA
BASIL
TOMATO SAUCE
EVOO
PEPPERONI
MOZZARELLA
CALABRESE CHILI FLAKES
MIKE'S HOT HONEY
TOMATO SAUCE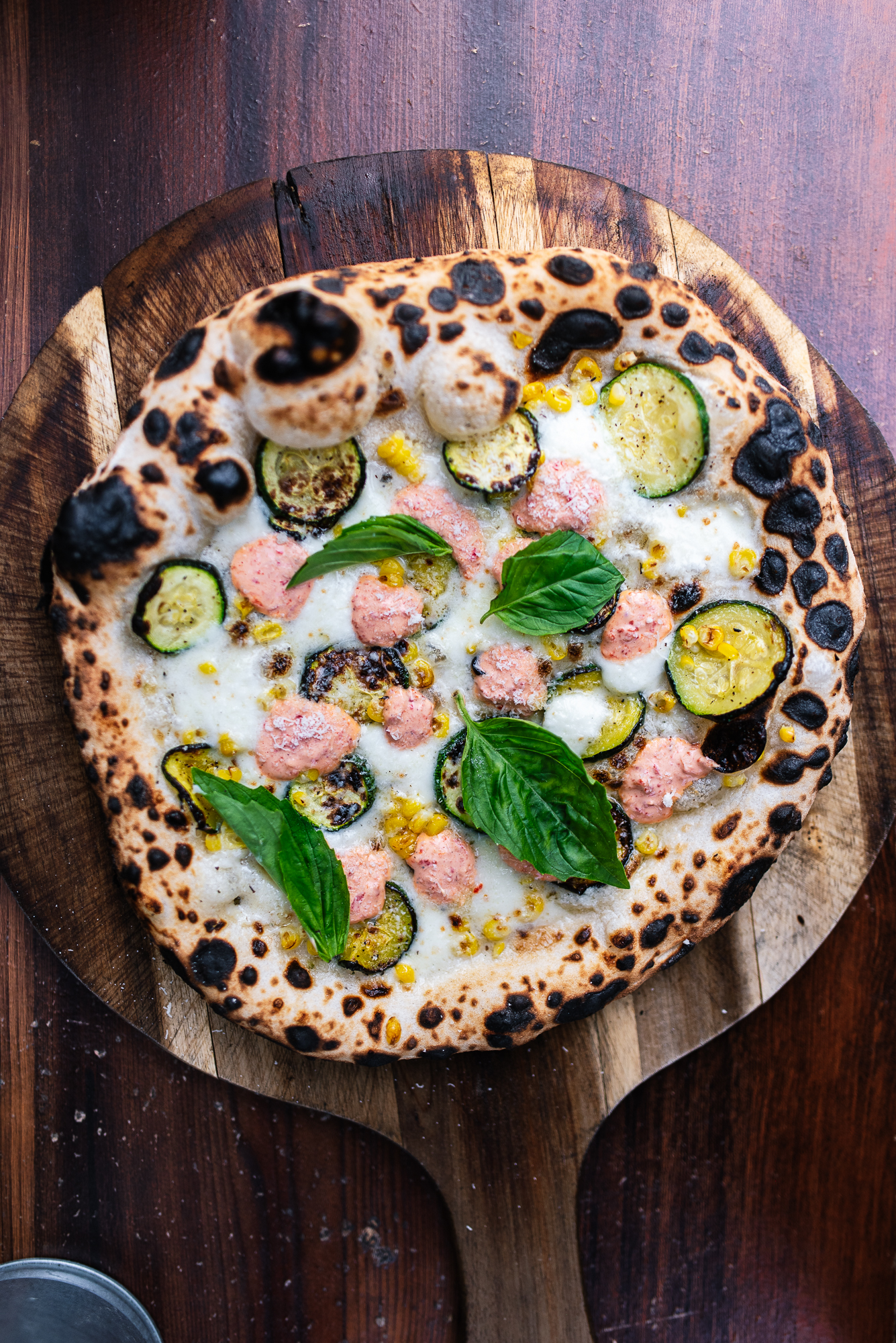 LOCAL CORN & ZUCCHINI
RED PEPPER AIOLI
GARLIC CREAM SAUCE
BASIL
CAPOCOLLA
ORANGE ZEST
BEET GREENS
MOZZARELLA
LOCAL PEACH
PROSCIUTTO
GOAT CHEESE
ARUGULA
HONEY
BALSAMIC DRIZZLE