Balkan Treat Box
Balkan Treat Box is the best food truck in St. Louis. Hell, I'd even go so far as to say the food coming out of this is more flavorful and exciting than the food you find at a lot of restaurants in town.
There are really two ways you can treat a food truck: you can use it as a mobile food delivery service (scoop-and-serve; you're bringing pre-cooked food to people) or you can use it as a mobile restaurant, which is what owners Loryn and Edo Nalic do.
What you get when you order from their truck is truly freshly made as you wait. Well, besides the airy somun bread (pita's Bosnian cousin), which is baked fresh in the truck's goddamn wood-fired oven just before service.
The cevapi (che-va-pee) are like mini-sausages made of a simple mix of ground beef mixed with onion and garlic, finished on the goddamn wood-fired grill—yes, they have a grill and oven inside of their truck, and yes, it's about 1,000 degrees in there during the summer. Don't be deceived by the simplicity; I can't stop eating this hamburger stick sandwich, served with kajmak (kind of like a cream cheese) and ajvar (a mildly spicy roasted red pepper relish).
For the döner kebab—one of the world's great drunk foods—Loryn makes seasoned chicken thighs with aleppo, urfa, fresh herbs, sumac, and more before stacking them into a meat mountain and letting them slowly roast on a spit until their edges are crispy. The end result, a mix of crunchy, juicy chicken on somun with cabbage salad, lettuce, tomato, and a yogurt-based doner sauce, is one of the best sandwiches in town.
Now let's talk about my two favorite things that Balkan makes: the pide (pee-day) and the lahmacun (la-ma-june).
Imagine a Turkish man making a calzone, but getting distracted in the middle. That's the pide. It's like an enormous boat filled with filled with seasoned meat, Turkish cheese, kajmak, and ajvar, and it's also one of the world's great drunk foods.
You probably won't finish it in one seating unless you're sharing or an impressive eater, but if you're sharing this, you're dumb. Make your friend/coworker/spouse/child order their own. Take your leftovers and eat them for breakfast the next day.
Side note: Once in a blue moon, Balkan Treat Box teams up with the Stellar Hog for The Stellar Pide, where they use chef Alex Cupp's smoked brisket. It's one of the best things I ate in 2017.
Finally, the lahmacun. This is almost as rare as The Stellar Pide, but I'm hoping this post and your vocal support will change things.
Loryn rolls out the somun dough until flattened, like a gigantic Bosnian tortilla, tops it with spiced ground lamb, then fires it in the oven. Once it's cooked, it's topped with lemon, parsley salad, cabbage, herbs, tomato, and the doner yogurt sauce, then rolled up (or not—your call…but get it rolled). I cannot accurately express to you how delicious it is, but I can tell you that when I bite into it, this is what I hear.
Hunt down Balkan Treat Box. Give them your money. Help them open a restaurant. Make St. Louis a better place. Thank you.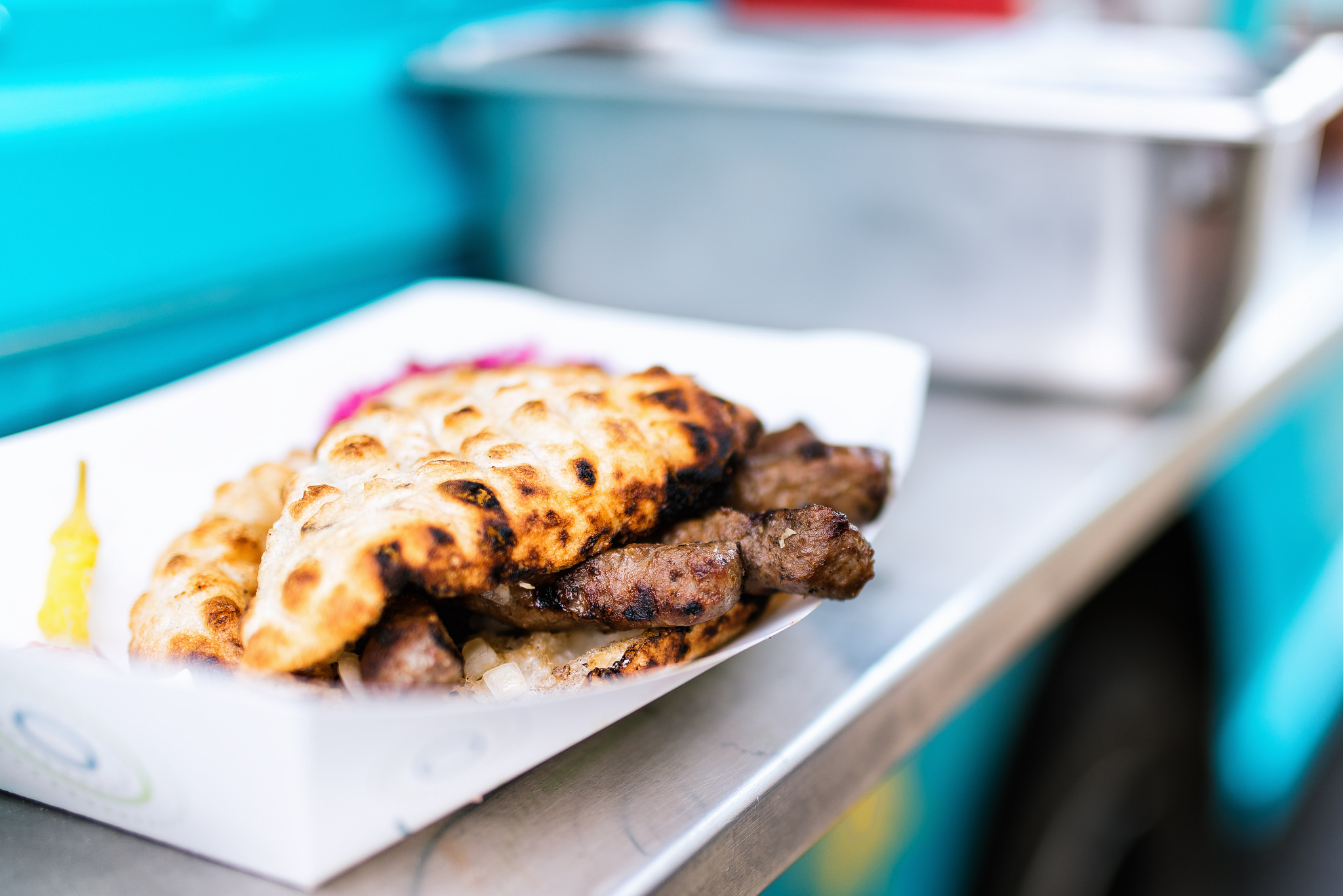 somun bread, onion, spicy pepper, cabbage salad