Juice Bar Rock Hill
Wasn't it great complaining/humble-bragging to your coworkers at work the last few days about how you're still full from Christmas feasting, when you expertly prepared that whatever?
First of all, you overcooked that whatever. You know it, they all knew it, but no one wanted to say anything. Second, you're weak. You had a ham that night then leftover sandwiches the next day? Wow. Look at you go. That's what I do every day, every week. I go to Union Loafers, eat a sandwich and an entire loaf of bread, then I go eat a meat platter meant to serve 3 at Salt + Smoke. My body is a temple that is filled to the brim with brisket, cheesy bread, and French butter.
So how do I keep myself from looking like Superbad Jonah Hill? Back in Asia, I was let in on a secret: juice. Seriously, did you know that juice comes from fruit (and vegetables, wtf), and not from a jug? I'd had freshly squeezed orange juice before, of course, but I thought that was just something poor people had to do since they couldn't buy the big jugs of it.
I visited the juice stand every day. Sometimes twice a day. "Large ABC again, lah?" the woman would yell at me. Yes, gimme that apple-beet-carrot juice again, lah. Then I moved back to St. Louis, where made to order juice hadn't been invented yet.
UNTIL NOW!*
*Yes, I know other places in St. Louis have or had juice, but I only know of one other that juices to order…and it's not close to my house.
St. Louis' first I Love Juice Bar has opened in Rock Hill. And seeing as it's near Olive & Oak, Bolyard's Meat, Katie's Pizza, and Reeds, I've gone quite a few times. I'm not sure how the science works out, but I'm pretty sure if I drink a green juice immediately after eating a Bolyard's meatball sub, the meal is considered healthy.
The menu is surprisingly large, which continues to throw me off my game. Too many drinks sound good. Picking is difficult. If making hard choices isn't your thing, there's a grab and go fridge that usually has 4 or 5 pre-made juices or smoothies ready for you to take, plus things like spring rolls, muffins, sprout sandwiches, and my favorite so far, pad thai. They also have an acai bowl, because they know you love it.
They have a few juice cleanse options, which is something I should probably invest in since I will literally eat anything put in front of me.  Alas, I have not done that yet.
This isn't some BS "juice" spot (cough Jamba cough).  Everything is fresh, and that makes a huge difference. Prices are reasonable too, considering the size of the drinks, the fresh produce, and the fact you're not the one who has to clean a goddamn juicer. Have you done that? It's miserable.
I wish Juice Bar was closer to my house. I would be there every morning for a We Got the Beet (beet, carrot, apple, ginger, lemon) or an Orange You Glad (carrot, apple, pineapple, lemon, ginger, mint). Then I'd get a mid-morning snack smoothie—probably the PB&J, because it tastes exactly like a liquified PB&J, or the Cacacacao, which combines avocado, chocolate, and goji berries.
And since I like you so much, I'll give you another tip: there's an off the menu item called the Coco Pro. They crack open a fresh young coconut, pour the meat and water into a blender with probiotics and hemp seeds, then blend that up. If you're a fan of actual coconut water, not the disgusting canned stuff that tastes like some kind of chemical cleaner, this is like coconut water 2.0.
To summarize: I Love Juice Bar is, as far as I can tell, the best juice bar in St. Louis. I hope it replaces every Smoothie King, Jamba Juice, and Five Guys. You should probably go—those jeans are looking a little tight.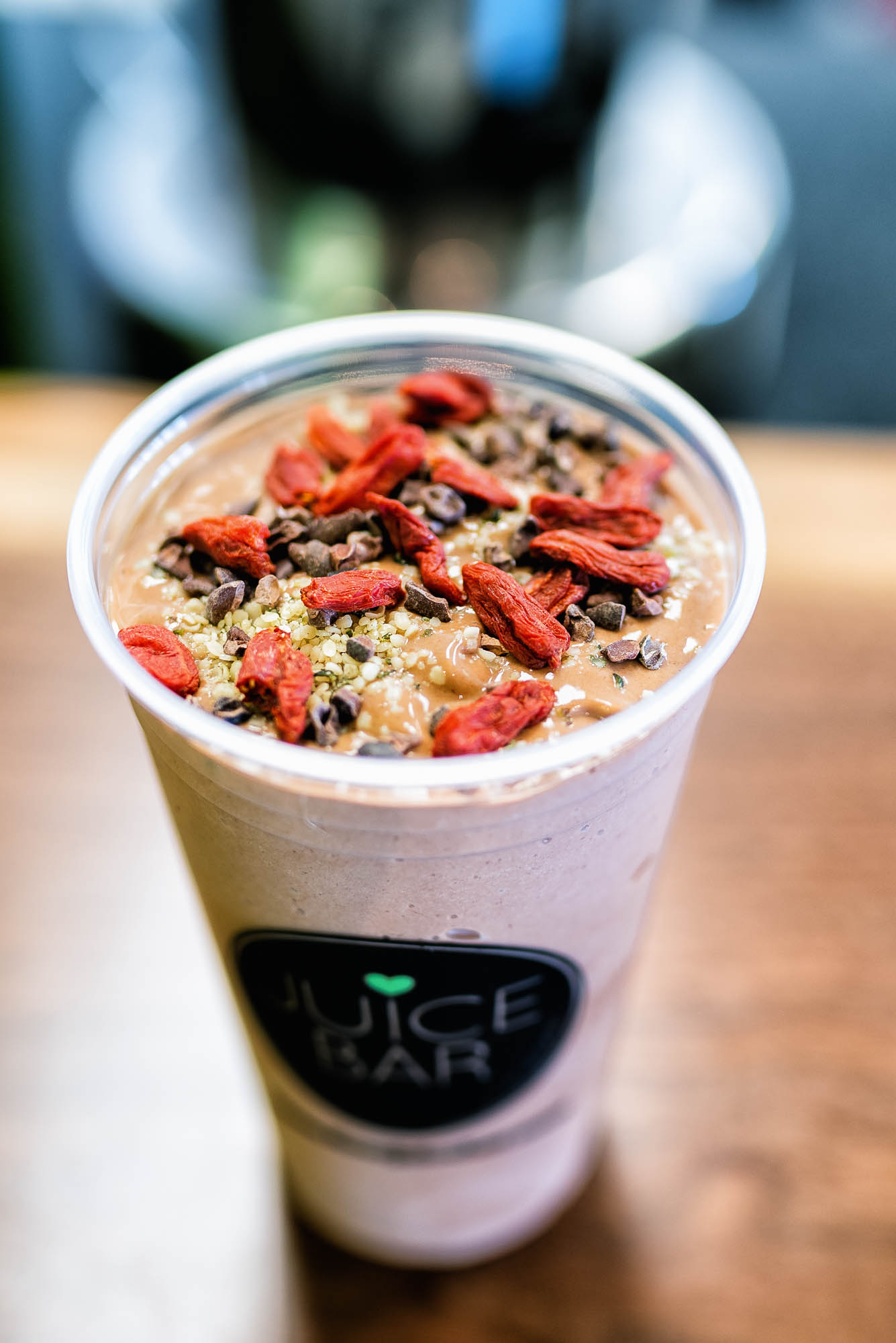 fresh young coconut, coconut water, hemp seeds, probiotics