Momofuku CCDC
Am I cool now that I've been to one of David Chang's restaurants?
Unlike most of the celebrity chefs who have used their fame to churn out garbage cookbooks, open restaurants made specifically for tourists with no taste, and sell their souls to be on mid-day cooking shows, Chang has done nothing but expand his empire of boundary-pushing restaurants.
He was brought to the limelight by Anthony Bourdain and, in a lot of ways, is the man we first associated with Bourdain: a renegade chef, unafraid of saying whatever comes to his mind. Though, like Bourdain, he has become less of a chef and more of a public figure.
The guy has 19 restaurants globally (and growing by the day), most of which attract top-tier FOH/BOH talent. That's what you need to know.
I recently had the pleasure of trying out brunch at his D.C. location, Momofuku CCDC. Let's talk about it.
The restaurant is located in a brand new complex, and par for the course in D.C., it's sexy. We went in planning to get fucked up on food, and by god, we did it.
Things kicked off with a creamy Maryland crab dip served with spiced chicharrones for dipping, which should be a thing everywhere. You've already resigned yourself to eating unhealthy when you get tortilla chips, so why not just go all the way and eat some fried pork skin?
The dip was chased with a handful of steam buns—shiitake with hoisin, scallions, and cucumber to be healthy, shrimp with spicy mayo, pickled red onion, and iceberg lettuce to be moderately healthy, and a bacon & egg bun with hollandaise and bourbon maple syrup because living a long life is overrated.
The logical next step in our descent into obesity was shrimp and grits. An oversized bowl filled with buttery, creamy grits, topped with spicy shrimp, mustard greens, and a poached egg. People around us were beginning to stare. That's how you know you're doing it right.
We dabbled with the thought of eating healthy and ordered the smoked Carolina trout toast, and while it was delicious, it didn't hold a candle up to the famous Korean Fried Chicken. Four massive boneless thighs were fried until ultra-crispy, tossed in a spicy, smoky gochujang hot sauce, then served with a mix of fresh greens, pickles, and herbs.
Oh, we also did a double order of their "bacon steak", which turned out to just be an enormous plate of crispy pork belly. The table next to us could not have judged us any harder. Even the waiter seemed concerned.
As if we weren't already disgusting enough, we capped the meal off with crack pie (a.k.a. sugar) and soft-serve ice cream from the attached Momofuku Milk Bar.
I can't speak for lunch or dinner at Momofuku CCDC, but I can assure you that their brunch menu is decadent and depraved—and well worth the price.
Chicharron, togarashi, tobiko
Spicy mayo, pickled red onion, iceberg lettuce
Hoisin, scallion, cucumber
Hollandaise, bourbon maple syrup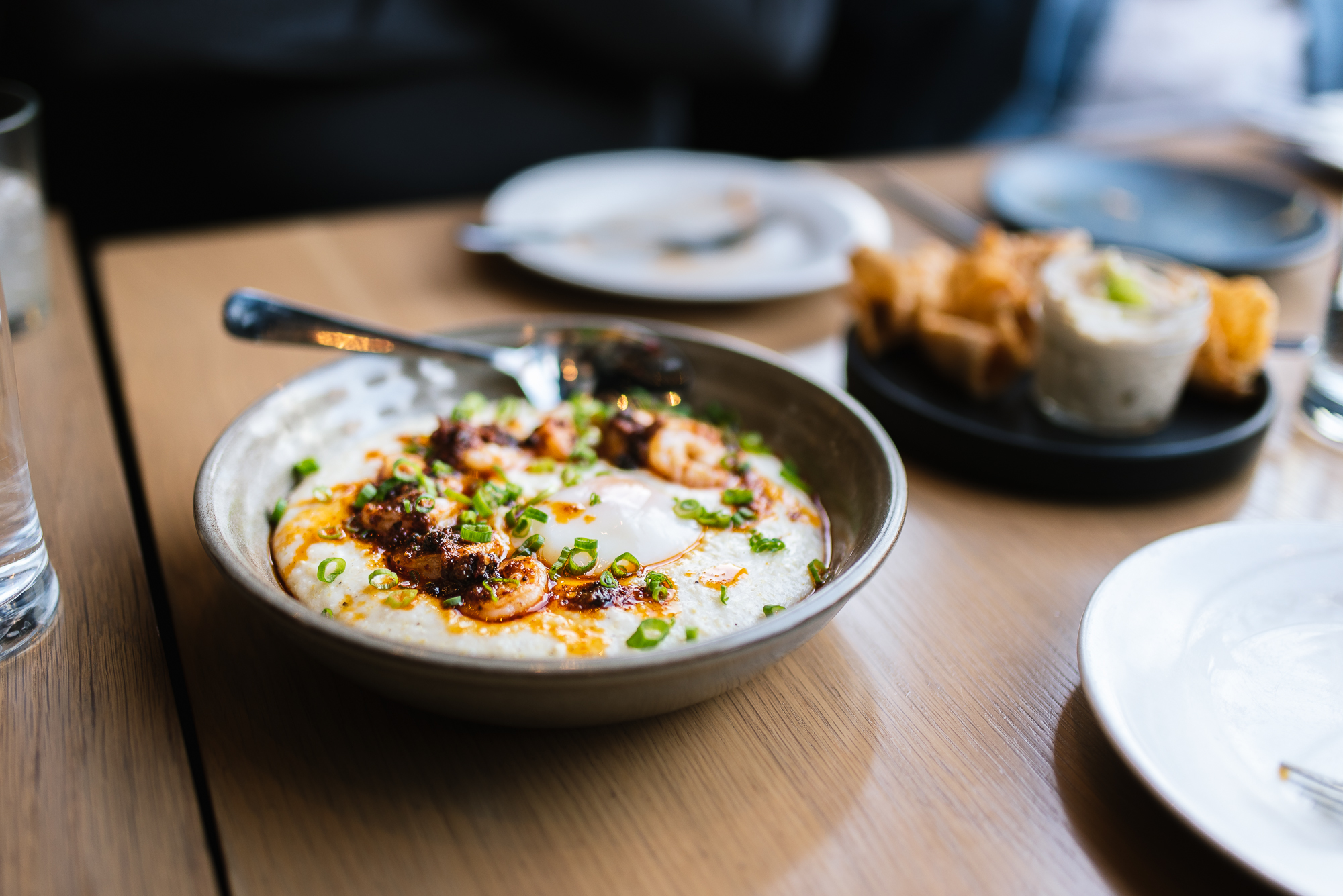 Poached egg, chili, mustard greens
Dill labneh, sunny side up egg, red onion